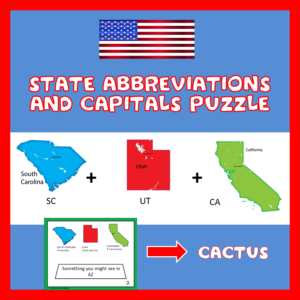 Identify U.S. states, review and practice state capitals and abbreviations with a fun twist! Each task card contains two or more states for students to figure out the correct abbreviations, and then unscramble the letters to find a word that answers the given clue. Each of the 50 states is represented at least once in this set.
Three levels are included to suit your needs:
Level 1: Includes state shape, name of state, and name of state capital. Students just write the abbreviations for the given states.
Level 2: Includes state shape and name of capital. Students must first identify the state from the shape and capital, and then write the abbreviations.
Level 3: Much more challenging. Includes state shape only. Students can identify the states by shape and/or refer to a US map or the included state reference sheet, or the QR code hints. Then they write the state abbreviations.
This set includes the following:
40 task cards for each level. Each comes with color or grayscale options
A reference sheet with a list of all states, abbreviations and capitals
A reference sheet with state shapes, names, and capital cities
A recording sheet to enter the abbreviations and the unscrambled word for the answer to the clue
Answer key
Each state shape on a separate card with a QR code that gives a hint and/or interesting facts about that state. This can be used with Level 2 and Level 3 cards to add a fun element to identifying the states
A recording sheet to list the states after they have been identified by shape and/or QR code
You might also like:
U.S. State Research: 50 State Bundle
(Bundle includes state capital resource as a free bonus!)
GRAB IT NOW